Last Updated on December 26, 2021 by Griselda M.
Doxies are many people's favorite dog breed but they do have some joint and back issues to watch out for. So, what is the best joint supplement for dachshunds on the market right now? Any of the quality products, we've listed below, combined with a good diet, regular but measured exercise, smart lifestyle choices, and regular vet visits should ensure that your Doxie pet lives a long, healthy, and happy life.
Which Is The Best Joint Supplement For Dachshunds?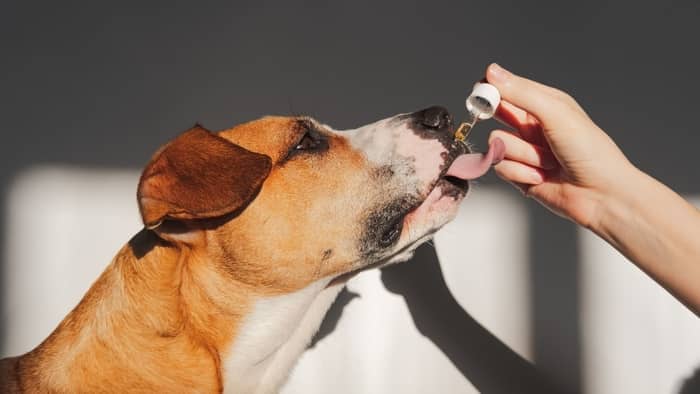 Ideally, you should always consult with your vet about such purchases and follow his or her recommendation. That's because your vet is the one who knows your dog's individual needs and specifics. That being said, here's a list of the 10 best joint supplements for dachshunds and other dogs. Any of them should work wonders for a Doxie with joint problems as long as your vet approves them too.
Read more about Can Dogs Overdose On CBD And How To Avoid CBD Toxicity?
This YuMOVE supplement is a great mix of dachshund vitamins C and E, Omega 3, as well as Glucosamine and Chondroitin for high-strength joint support. It also contains Hyaluronic acid which helps cushion and lubricates your dog's joints. It comes as bite-sized treats and can be in a 150-bite or 300-bite package.
This 90-count box of chews by PetNC contains Hyaluronic acid, manganese, zinc, and copper. It's also full of Vitamin C and lots of antioxidants which help your dog form stronger bones and cartilage. It's also great for the viscosity of your dachshund's joint fluid. Last but not least, the chewables are very well flavored and are perfect if your dog has refused to eat similar supplements before.
These chicken-flavored soft chews come in packs of 180 or 90 pieces. They are recommended for all breeds and dog sizes, including dachshunds. The VETIQ formula includes Omega 3, MSM, and Glucosamine, making it great for lubricating joints, muscle maintenance, and cartilage support.
The Zesty bites supplement comes in four different flavors – bacon, chicken, duck, or chicken and hemp. It's typically sold in packs of 90 bites but there are also packs of 250 pieces as well as a separate pack for senior dogs. This supplement contains OptimMSM, as well as Glucosamine, Chondroitin Sulfate, and Vitamins C and E.
This Doggie Dailies supplement comes in packs of 225 soft chews. It includes Glucosamine for dogs, MSM, Chondroitin, CoQ10, and Hyaluronic acid. This combination is excellent for maintaining the hip and joint health of your dog and is good for the skin and coat health too. The chews come in two possible flavors – chicken and peanut butter.
Coming in packs of 90 chews, the PetHonesty supplement is made with Glucosamine, MSM, and Turmeric. It also includes Chondroitin, Yucca Schidigera, and eggshell meal. This unique combination is fully natural and contains no GMOs, preservatives, soy, corn, or unhealthy chemicals.
The VetPro supplement is made out of a mix of Glucosamine, Chondroitin, MSM, Turmeric, Vitamin C, and Omega 3. It's excellent for both hip dysplasia and arthritis, and it's suitable for all dog breeds and even cats. It has a strong chicken flavor and comes in a pack of 120 chews.
For a powder supplement, you can check out The Missing Link. Their original hip and joints supplement contains Omega 3 and 6, as well as Glucosamine and dietary fiber. Other ingredients include taurine, flaxseed, and nutritional yeast. This combination ensures not just healthy and durable hips and joints but also a strong heart and cardiovascular system. As you'd expect, it includes no GMOs, preservatives, or artificial colorants and flavors. The powder comes in a 1-pound pack and should be given to your dog once a day.
This is a second option from PetHonesty. Their senior hemp mobility supplement is great for Doxies that are past the 6-year mark and are at risk of developing hip and joint issues. This supplement also comes in 90-piece packs and has a strong chicken flavor. It's made out of Collagen, Hemp powder & hemp oil, Glucosamine, Green Lipped Mussel, and MSM. This balanced formula makes the PetHonesty senior dog supplement very effective at both dealing with joint pain discomfort and healing damaged joints.
We're closing the list with a great product by Infinite Pet Supplements. These 90-chews packs are made out of all-natural ingredients such as MSM, Turmeric Curcumin, Chondroitin, and Glucosamine. The tablets have a delicious beef liver flavor and are perfect for canines of all breeds and sizes. The supplements are also available in powder form if that's what you prefer. There's also a 100% money-back guarantee in case you find that the supplement isn't working for your dog.
Why Do You Need To Use The Best Joint Supplement For Dachshunds?
Doxies are awesome pets and they also have quite long lifespans. However, they do tend to suffer from various back, hip, and elbow joint issues. Arthritis in dachshunds can be quite an issue, for example, as is Hip and Elbow Dysplasia.
Fortunately, most such issues can be addressed with proper care and prevention. Keeping your dachshund's legs and back from getting too stressed is a must so you should avoid staircases and other high jumps. But that alone may not be enough to keep your dachshund healthy during its long 12-16 or even up to 20-year lifespan. So, quality food and supplements are a great way to make sure that your pet stays as healthy as possible.
In Conclusion
Joint problems are annoying and can become quite painful and detrimental if left untreated. Fortunately, there are many good ways to treat and prevent such issues. With dachshunds spending the majority of their life in their "senior" years, you should make sure that your dog is well taken care of.
Jordan is an animal–lover who specializes in dachshunds. He has owned and cared for dachshunds since he was a child, and his passion for these unique dogs has only grown with time. Jordan is an avid researcher and learner, and spends a large portion of his free time studying the history, behaviour, and health of dachshunds. He has a knack for training and socializing his own dogs, and loves introducing them to new experiences. When not caring for his own pets, Jordan likes to volunteer at local animal rescue shelters, helping to find homes for abandoned dachshunds. He is a true animal advocate, and dedicates his time to ensure that all animals receive the love, respect, and care they deserve.