Last Updated on December 27, 2021 by Griselda M.
Dogs love wandering around and exploring but every once in a while you need to drive them places too. So, if you're looking for the best car seat for a dachshund – 10 great suggestions await you below.
Different dogs and their owners have different preferences so there's no exact science determining which is the absolute best dog car seat. However, personal preferences do need to give way to objective factors such as durability, safety, security, and comfort first. The best dog car seat meets all those demands. Then personal preferences come into play.
Best Car Seat For Dachshund Dogs
There really are thousands of pet car seat products on the market. And that's not counting the even more pet crates that can also be used as pet seats. So, to help you out a bit we thought we'd narrow the search down to the 10 best-reviewed and highest quality car seats for dogs online. So, chances are that your future dog car seat is somewhere below.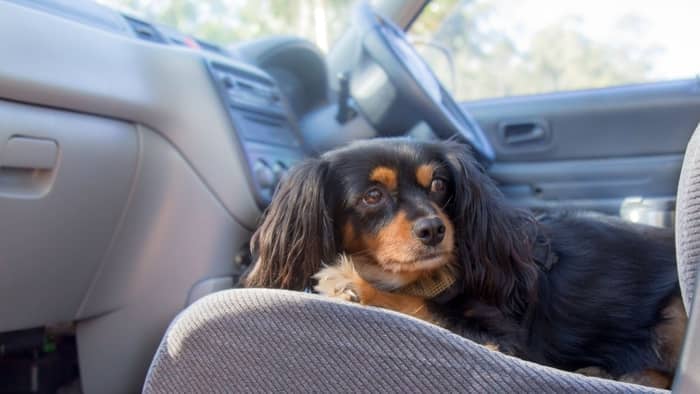 Ideal for small and medium-sized dogs, this Henkelion dog seat is meant for up to 30 pounds or 14 kg of doggy weight. This is quite perfect for both mini and standard dachshunds. Additionally, this dog car seat fits securely to the car seat and has a booster seat harness with a seat belt.
This Alpha Paw seat has an incredibly soft yet breathable interior design. It's also supported by a sturdy metal frame that gives it great durability as well as security. It holds up to 33 pounds or 15 kg of doggy weight with ease and it's very easy to assemble and install securely onto the car seat.
The small and compact pet bed by PetSafe easily holds dogs that weigh between 12 and 25 pounds or up to 11-12 kg. It's meant to be safely suspended in the air off the top side of the car seat. This gives small dogs the freedom to look over the window while it also dissuades them from jumping down.
The Bucket Booster Seat is made out of machine washable polyester and it's highly durable. The inside of the seat is made with quilted fleece for extra comfort. It's meant to elevate your dog's position on the seat but its first goal is to keep the pet safe and secure. The seat is easy to install but it also stays firmly in place thanks to a series of straps and buckles.
The Boosta Pooch car seat is great for dogs up to 30 pounds or 14 kg of weight. At the same time, it's also suitable for a boosted position high on the seat's back, allowing your dog to look comfortably through the window. The attachment mechanism is both safe and secure as well as easy to handle. The seat is suitable for any vehicle with an adjustable headrest and it also has side slots for water bottles and other items.
This HIPPIH car seat for small dogs is made out of a thick and durable but also see-through and breathable mesh. The seat itself isn't too big so it's recommended for miniature dachshunds rather than standard ones. The seat is collapsible and easy to store as well as easy to install. It's made to easily fit any car seat and to stay as firmly and securely as possible. It's held by four thick PVC bars on the top which further give it durability and security regardless of what motion the car is in.
Made from a breathable mesh, the BEELIKE booster seat can either be used topless or can be secured via its stable and sturdy zip. It also has a built-in safety leash if you want to keep the top off and it's intended for dogs of up to 15 pounds or ~7 kg.
SWIHELP's portable booster seat is also the perfect size for a mini or standard Doxie. It's comfortable, breathable, and waterproof too. It's foldable for when you need to keep it stashed somewhere and it's very easy to assemble and install. More importantly, it's made to attach very securely to any car seat and offer excellent safety and stability for your pet.
Ideal for smaller dogs, the BurgeonNest pet car seat will let your dog travel in style. It's not meant so much for safety as it is for comfort. So, your dog will need to be expertly trained to stay put. Alternatively, you can always use the clip-on leash that's also included. Either way, this booster seat will make traveling much easier for you and your dog.
Last but not least, the BOCHAO dog seat is meant for medium-sized dogs that grow up to 40 pounds or 18 kg. This means that a standard dachshund will feel good in it but a mini dachshund will be too small. The seat itself is very comfortable, safe, and durable. It's also machine washable and easy to install.
Read more about Pet Carriers For Dachshunds – 17 Excellent Choices
What To Look For When Searching For The Best Car Seat For Dachshund Dogs?
First and foremost the best car seat for dachshund dogs should fit both your car and your pet. If the seat is too big or too small, it just isn't going to work. Next, you want it to keep your pet in and prevent/dissuade it from getting out. A panicked and loose pet in a moving vehicle simply isn't something you want.
Additionally, the pet seat needs to be safe and secure too. This means that there needs to be a mechanism that keeps the seat firmly attached to the car seat at all times, regardless of the car's motion. Lastly, the pet seat needs to be both comfortable and durable. After all, Doxies can for as much as two decades. So, the best dog car safety seat should be able to last you for quite some time too.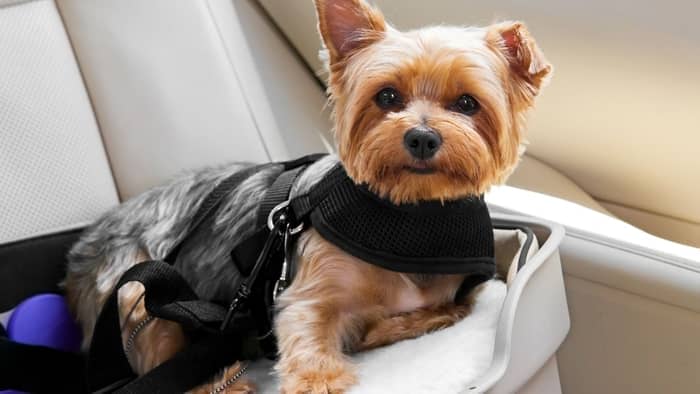 Read more about 16 Great Dog-Friendly Hotels Astoria Oregon Has To Offer
Jordan is an animal–lover who specializes in dachshunds. He has owned and cared for dachshunds since he was a child, and his passion for these unique dogs has only grown with time. Jordan is an avid researcher and learner, and spends a large portion of his free time studying the history, behaviour, and health of dachshunds. He has a knack for training and socializing his own dogs, and loves introducing them to new experiences. When not caring for his own pets, Jordan likes to volunteer at local animal rescue shelters, helping to find homes for abandoned dachshunds. He is a true animal advocate, and dedicates his time to ensure that all animals receive the love, respect, and care they deserve.