Last Updated on January 17, 2022 by Fabiola L.
Doxies may be expert hunters from snowy Germany, but that doesn't mean they like cold weather. So, what is the best winter coat for your dachshund? Below we've listed the 12 best options available on the market right now. Comfortable, warm, durable, and adjustable, either one should be a great fit for most dachshunds. And, even if you opt for a different brand or model, hopefully, we will have given you a few ideas or insight into what your dachshund needs.
Learn more about What Does A Dapple Dachshund Look Like?
What Is The Best Winter Coat For A Dachshund – Our 12 Suggestions
First on our list is this cozy Kurgo coat. It's waterproof, and it has a reflective surface which is great for those dark winter late afternoons and evenings. It can be a bit pricey, but it's a very high-quality model. Plus, it's available in 3 colors and in 5 different sizes.
A much more affordable but still great option, this Didog vest comes in a wide variety of sizes and colors. It's extra warm and lightweight, and it's very easy to put on thanks to its sturdy but the smooth zipper. It has two leash rings on the back, so it can function as a winter harness too.
Stylish, warm, and cozy, the Gooby vest can keep your dog's torso warm in almost every weather. It doesn't cover the neck or upper legs, but it's very convenient to use. It's zipped on the back, and it can also be leashed there on its two D rings.
One of the best winter coat options for a dachshund, this QBLEEV model has an extra warm winter neck and is easily adjustable. It's great for low temperatures, it's very durable, and it comes in 5 bright colors with reflectors. It's also available in 6 sizes which makes sure that you'll find your fit.
This waterproof Morezi winter coat is great for both the autumn and spring seasons as well as for the winter. It may look like a raincoat, but it also has thick fleece padding to keep your dachshund warm. It also has a reflective trim for those late nights, and it's very easy to put on and off.
One of the best winter dachshund coats, this Brabtod model is as adorable as it is practical. It's very easy to put on, and it's exceptionally cozy and durable. It's very suitable for a long dachshund's body and it also has an extra-thick neck to keep your Doxie in excellent health.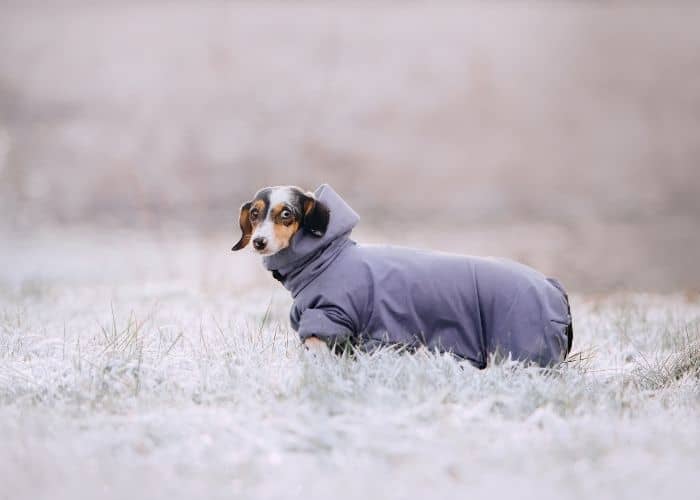 As great for the winter coat as it is for windy autumn, this Kuoser dog vest is very well padded and insulated. It also comes in a great variety of colors and sizes, and it has an extra-padded neck which is fantastic for dachshunds. The closure mechanism is a simple but effective hook & loop, and the material is quite durable too.
A great option for extra cold weather, this Vecomfy coat has a thick fleece lining and a large hoodie to also keep your dog's neck and head warm. It comes in 7 different sizes with a few of them being suitable for all dachshund variations. Plus, it's also available in 6 colors.
Very stylish, lightweight, and practical, this FUAMEY dachshund jacket is windproof and has a great reflective surface for when it's dark outside. It's very comfortable and warm too, which should keep your dog perfectly safe during the cold winter months. The zip is also quite convenient and the vest comes in numerous sizes and color options.
This puffer jacket from Django is excellent against windy weather. It's also quite good for keeping your dog warm, however, thanks to its strong and soft interior lining. Both the inner and outer materials are very durable as is the overall design. The jacket also offers neck protection and is very easy to put on and off.
Both windproof and weather-resistant, this KYEESE dog winter jacket is the quintessential doggie coat for cold weather. Very well-padded, long, and with a nice, thick neck cover, this is a great option for most small dogs. It may be a tad short for some dachshunds, but it's available in multiple sizes. So, it's important which size you choose, but you can then easily adjust it for your dog with the belly strap.
Last but not least, this Geyecete quilted coat is intended for dachshunds. Available in 4 sizes and 4 colors, this coat is long, very well padded, and offers neck support too. It's made of very durable and high-quality materials, and it's machine washable too. The adjustable fastening and straps make it very easy to use too and suitable for all dachshund body types and sizes.
Why Do You Need The Best Winter Coat For Your Dachshund?
Many people instinctively giggle when they see a small dog with a cute vest or even shoes. We are used to thinking of such things as "Fashion accessories." And while it's true that you always want your pooch to look good, that doesn't change the fact that cold weather brings a lot of health risks for dogs. Small and short-legged breeds like the dachshund are especially at risk given how close their bodies are to the ground.
The British Kennel Club lists the following health risks for dogs in cold weather:
Hypothermia
Arthritis
Frozen ponds and lakes
Getting lost in the dark
Antifreeze poisoning
Grit and salt on the road
So, are dachshund winter clothes necessary? Very much so. Warm, waterproof, and with reflective surfaces, good dachshund winter coats are essential for keeping your dog safe.
Find more information about Are Long Haired Dachshunds Double Coated Or Single Coated?
Jordan is an animal–lover who specializes in dachshunds. He has owned and cared for dachshunds since he was a child, and his passion for these unique dogs has only grown with time. Jordan is an avid researcher and learner, and spends a large portion of his free time studying the history, behaviour, and health of dachshunds. He has a knack for training and socializing his own dogs, and loves introducing them to new experiences. When not caring for his own pets, Jordan likes to volunteer at local animal rescue shelters, helping to find homes for abandoned dachshunds. He is a true animal advocate, and dedicates his time to ensure that all animals receive the love, respect, and care they deserve.