Last Updated on August 8, 2022 by admin
Traveling with your Doxie requires some preparation, especially if traveling by bicycle where a bike basket for Dachshund is necessary to carry a dog. The first thing to consider is whether is it safe to bike with your dog in a basket.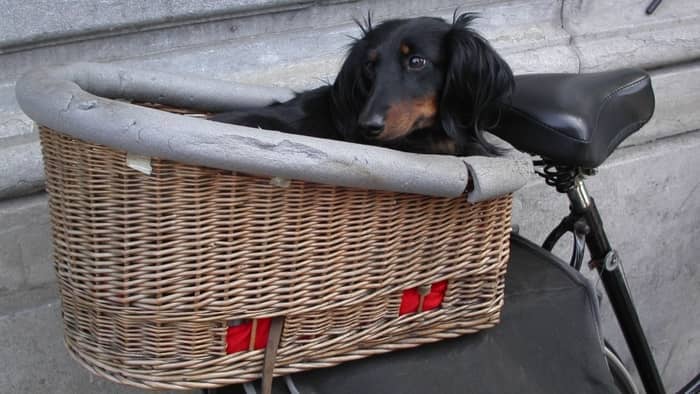 It's invaluable to assure the safety of your dog when traveling, and this should carry into what basket you choose. Picking the right basket should be in accordance with both your dog's size and available space on the bike. Some measurements would most likely need to be taken.
A multifunctional dog basket the BARKBAY Dog Bike Basket Carrier is perfect for bike riding and other uses. Easy to attach with its handlebar quick-release mount snapping into place. Once removed it can be folded and stored safely out of the way without taking up much space.
Designed with a sturdy metal frame and oxford fabric to hold the basket's shape. This basket is both stylish and practical as it can work as a dog bike carrier, pet carrier bag, or even car seat. The waterproof feature makes it perfect for rainy weather without having to worry about your dachshund getting wet.
With a mesh window to provide ventilation that can be covered with a folding panel to protect against wind. The leash inside will hold your pet safely secured during rides. One side of the basket can be expanded providing extra room when resting or for a quick snack.
A multi-use dog basket Pecute Dog Bike Basket Pet Carrier brings functionality and safety to a bike ride with your dog. Outfitted with supportive side plates and backplate for extra sturdiness. With two buckles to secure onto the bike handles this bike basket for Dachshund can support up to 20 pounds. A third strap in the middle clasps on the handlebar
The top of the bag is made with a mesh skylight that can be closed with a string. Your pet can poke its head through the opening to peek out while traveling. A safety belt inside the basket can be attached to a collar or harness and keep the dog secure.
With a foldable functionality, the basket can be compacted to make it easy to carry and store once not in use. Padding on the inside makes it highly comfortable and the mesh layout provides great ventilation.
With a more typical dog basket for bike design, the Pet Carrier Bicycle Basket has a simplistic aesthetic. Made to look like a wicker basket but with a resin material to resist weathering and use outdoors. The interior has a fleece lining that will cushion and keep your dog comfy on the bike ride.
It comes with a wire bracket that attaches to the bicycle's handlebars and slots into the basket's bracket. A tether is included with the basket to latch on to the dog's collar and keep it safely inside.
Its wicker design makes it a perfect choice for warmer climates and as such, it also has a sunshade. The lining is easy to remove and can be washed in the washing machine when needed.
Lightweight and durable the ANZOME Bike Basket is a nice bike basket for Dachshund with convenience in mind. Easy to fasten on a bike with its quick-release mount, to make attaching and removal effortless. This would work nicely for a miniature Dachshund bike basket as it can keep up to 11 pounds.
Designed with a metal frame to keep its sturdy shape, and covered with oxford fabric. The textile material also has a waterproof feature making it easier to wash. It's perfect to take your dog out with you to the market making the journey that much easier.
A comfortable pet bag the Petsfit Dog Bike Basket Carrier is perfect for winter use. The mesh design makes it very efficient for use in summer as well as it provides breathability. The structure is reinforced with sturdy PE plates in the back, sides, and bottom.
It can hold up to 15 pounds and accommodate a Dachshund. This bike basket for Dachshund has a drawstring opening at the top so your pet can peek through. Reflective strips along the outer part make it highly visible in traffic.
Adjustable straps make it easy to fit on the bike as necessary. The bottom support is equipped with soft padding to cushion the seat where your pet will sit. A handy side pocket makes it easy to store all the essential travel items.
Conclusion
A great bike basket for Dachshund is one item to consider choosing when using a bike regularly. Taking your pet on a longer journey may require investing in a basket for their safety and comfort.
What is useful about dog bike carriers is that they oftentimes are multi-functional. They can be used simply as a bike basket when not carrying your pet. Some of the best options for dog baskets are waterproof and are capable of protecting a dog against the elements.
Read more about 15 Best Dog Slings For Dachshunds, Carrying Bags, And More

FAQs
Is it safe to bike with your dog in a basket?
Using a bike regularly will mean that taking your pet with you may be a little difficult. Letting a dog run alongside the bike they can get hurt especially smaller breeds like a Dachshund. The safest option for this is to invest in a bike dog basket.
Making sure to measure both the space available on the bike and the dog will make choosing a bike basket easier. Looking for features like straps for the handlebars and for attaching to the leash will add to the dog's safety.
A little training may be needed to ensure the dog is accommodated with sitting in a basket. This will mean presenting the basket to them indoors and letting the Doxie smell around it and get comfy staying inside. This is how it will get used to the new bike seat. Overall, a bike basket is far safer than letting the dog walk or run along with the bicycle, especially since they can easily get distracted.
Alexandra is a passionate dog lover who loves nothing more than spending time with her beloved dachshund. She is an avid outdoorswoman who enjoys taking her dog on long walks in the park, playing fetch, and snuggling on the couch. When she's not caring for her pup, she enjoys reading and exploring new places with her friends. She is a strong advocate for animal welfare and loves giving back to her local community. Alexandra is also a dedicated and ambitious professional, working hard to make a difference in her field. She is kind, compassionate, and incredibly devoted to her family and friends.