Last Updated on February 10, 2022 by Griselda M.
Selecting a name for a new dog is something many of us struggle with and some good names for dachshunds are easy to find with a little consideration. Dachsunds are small dogs, with one of the more unique appearances of dog breeds. 
Their elongated bodies, which resemble sausages, are what granted them the nickname of weiner dogs. This physical feature is the result of extensive breeding that made them badger hunting dogs. This background in hunting also provided many of their temperamental traits which can factor in picking names. 
Specifics Of Dog Naming Conventions
The best thing to keep in mind when choosing a dog name is size. It may sound funny to use a full name and surname for your dog, but they won't understand it. We use other words when it comes to training and commands. 
Most command words are one or two syllables long and as such a name as long will be more efficient. Anything that is longer can be harder for your dog to understand or associate with their name. The same principle applies to choosing good names for dachshunds. 
Sounds That Make Good Names For Dachshunds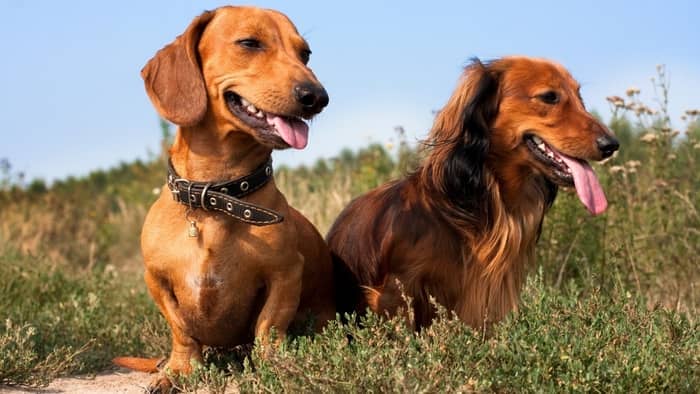 A name that is on the simpler side will make it much easier for your dog to understand it. Usually, good names for dachshunds, or any dog, are ones that start with consonants and end with vowels. 
The explanation behind this is that consonants are sharp sounding as opposed to vowels, and it's more distinctive to dogs. The way in which a dogs' name is said matters more than the actual name itself. 
German Names With Double Meaning
The dachshund breed has its origins in Germany, where it was bred as a badger hunter. The name "dachshund" in german stems from the words for dog and badger, effectively making it "badger dog". A name from their place of origin would make for good names for dachshunds. 
Boy dachshund names with Germanic origin 
Dieter – the people's ruler

Harbin – little shining fighter

Meyer – bringer of light

Zelig – blessed one

Rowland – famous in the land

Imre – great king

Gunther – warrior

Alger – noble, bright

Bismarck – German statesman

Otto – prosperous, rich

Verner – defending army

Milo – beloved

Alfred – counselor

Ferdinand – adventurous, courageous

Leopold – bold leader

Wilfred – determined peacemaker

Helmar – famous protector Hendrik – home ruler

Arvin – friend to all

Theobold – the boldest

Max – greatest

Duxi – warrior of the people

August – exalted, revered

Cayden – spirit of battle

Frido – powerful

Mozart – German composer

Waldo – ruler

Prinz – prince

Axel – peaceful

Clovis – famous warrior

Ellard – noble and brave

Ugo – mind, heart, spirit

Hugo – wise man

Luther – warrior

Bernard – brave as a bear

Felix – lucky

Bruno – brown-haired

Norbert – hero

Schatzi – sweetheart

Damian – the fighter

Emmett – industrious, strong

Garin – warrior

Donner – thunder

Ozzy – divine spear

Jaeger – hunter

Frederick – peaceful ruler

Manfred – man of peace

Ritter – knight

Keene – bold, sharp

Hamlin—one who loves his home
Female dachshund names with Germanic origin 
Dagmar – famous, glorious

Heidi (Diminutive for Adelheid) – noble and serene

Leona – brave as a lioness

Nadja – hope

Zenzi – to spring up, grow, thrive

Petra – solid as a rock

Winifred – peaceful friend

Ada – noble, kind

Sonje – wisdom

Wilhelmina – protector

Liesel – God is my oath

Vera – faith, truth

Annika – graceful

Zelda – battle maid

Raina – mighty army

Aubrey – noble

Romey – obstinate, rebellious

Helga – pious

Mareike – obstinacy, rebelliousness

Trudi – strong spear warrior

Elsa – noble

Milla – industrious

Winola – charming friend

Frieda – peaceful

Liebe – love

Tilli – battle maiden

Nia – bright

Hulda – sweet, lovable

Beate – happy

Matilda – mighty in battle

Frauke – little lady

Sascha – defender of mankind

Ida – hardworking

Ula – pearl

Gretchen/Greta – pearl

Lorelei – alluring

Gerda – protected

Sigrid – beautiful victory

Irmalinda – soft, tender, gentle

Vala – singled out

Lotti – little woman

Kaja – alive

Schatzie – little sweetheart

Olinda – protector of property

Katrin – great beauty

Berta – intelligent, glorious

Norberta – blonde heroine

Britta – strength

Ulrika  – all-ruling, wolf ruler
Good Names For Dachshunds Based On Coat Colors
Dachsund comes in a variety of coat colors, and they can be very useful in trying to pick names. With colors ranging from darker tones to lighter ones and even reddish. There are also cases where dapple coats make for great wiener dog names. 
Good names for dachshunds for dark coats
Mora – blackberry in Spanish

Inky

Sable

Crow

Eightball

Onyx

Midnight

Shady

Grim

Carbon

Blacktop

Jet

Cinge

Licorice

Tar

Charcoal

Eclipse

Noir

Blackjack

Shadow

Domino

Pepper

Ebony

Expresso

Blackie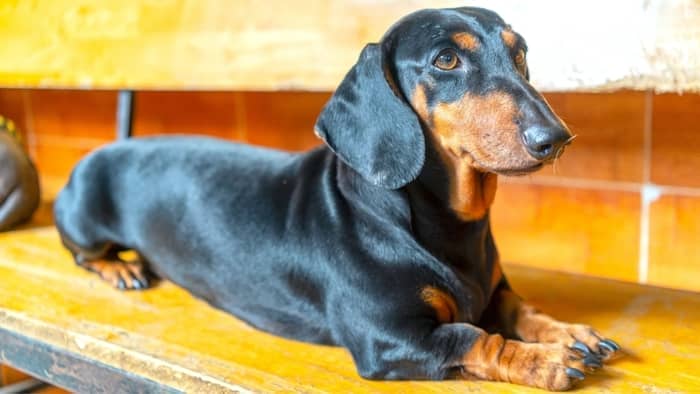 Good names for dachshunds for cream coats
Blanco – white in Spanish

Coconut

Vapor

Salt

Lilly

Opal

Cotton

Angel

Crystal

Sugar

Whitey

Marshmallow

Ivory

Pearl

Magnolia

Star

Vanilla

Milky

Chalky

Dove
Good names for dachshunds for reddish coats
Blaze

Garnet

Pyro

Rusty

Chili

Bordeaux

Copper

Ember

Ginger

Ruby

Flame

Scarlet

Cayenne

Ambrosia

Cinnamon

Merlot

Cherry

Rowan

Crimson

Foxy
Dachshund names by coat colors – multicolored
Checkers

Skittles

Mash

Tyghe

Rainbow

Sprinkles

Dotty

Spumoni

Tuxedo

Calypso

Harlequin

Sherbet

Tigra

Dot

Oreo

Tiger

Freckles

Pockets

Spot

Jester

Patches

Scraps
Good Names For Dachshunds With Character
Personality goes a long way with the dachshund breed and some cute names can be found that exhibit personality traits. A lot of names such as these could even have a double meaning, the better to emphasize each trait. 
Archie

– bold temperament, a straight shooter like an archer

Boomer – huge, noisy, or notable

Buster

– tough personality

Digger – dachshunds tend to dig  

Fluffy- perfect for wire-haired dachshunds

Hercules – courageous

Hunter – dachshunds are hunters and this fits perfectly 

Bella – beautiful, pretty

Bonnie – pretty girl

Dotty – something with spots

Sassy – a perfect name for stubborn dogs

Duchess – a very confident name for a confident dog

Rebel – a nice name for a dog that likes to run wold

Lady – a dignified name

Star – a name that depicts the star of the show
Conclusion 
Names mean so much to us, and even if our dogs don't relate the same, it brings us closer. The way in which we call their name can still result in positive reactions from our pets. Dog's like to please and they'll be very happy to come when called and get cuddles. 
A name only provides a medium of communication and establishes a stronger connection between dog parent and lovable dachshund. Good names for dachshunds come to complement their personalities.
Read more about The Most Beautiful Green-eyed Dog Names
Alexandra is a passionate dog lover who loves nothing more than spending time with her beloved dachshund. She is an avid outdoorswoman who enjoys taking her dog on long walks in the park, playing fetch, and snuggling on the couch. When she's not caring for her pup, she enjoys reading and exploring new places with her friends. She is a strong advocate for animal welfare and loves giving back to her local community. Alexandra is also a dedicated and ambitious professional, working hard to make a difference in her field. She is kind, compassionate, and incredibly devoted to her family and friends.