Last Updated on October 20, 2021 by admin
Snuggling your Doxie sometimes isn't enough to keep warm in the winter cold. So, you need to find the best Dachshund sweater for human wear. There are some great t-shirts, sweatshirts, and hoodies with dachshunds on them too. And, while you're at it, why not look for some Doxie wear too? Here are a few suggestions.
Pick The Best Dachshund Sweater For Human Wear On Amazon and Etsy
Looking for dachshund clothing for adults can be time-consuming as search engines are so hasty to recommend actual dachshund sweaters rather than human sweaters with Doxie on them. So, to save you some time, here are a few cool suggestions we found on Amazon and Etsy:
Halloween FarmedOut Dachshund Sweater
Fully black with an awesome design, this Doxie sweater is inspired by Tim Burton's Nightmare Before Christmas. Excellent for Halloween, it's also unisex and excellently made.
Christmas PillowParowParloud Dachshund Sweater
This sweater sports a classic Christmas design with a cool Doxie twist. Black and unisex, it shows just how much cooler it'd be if Santa's shed was pulled by Doxies.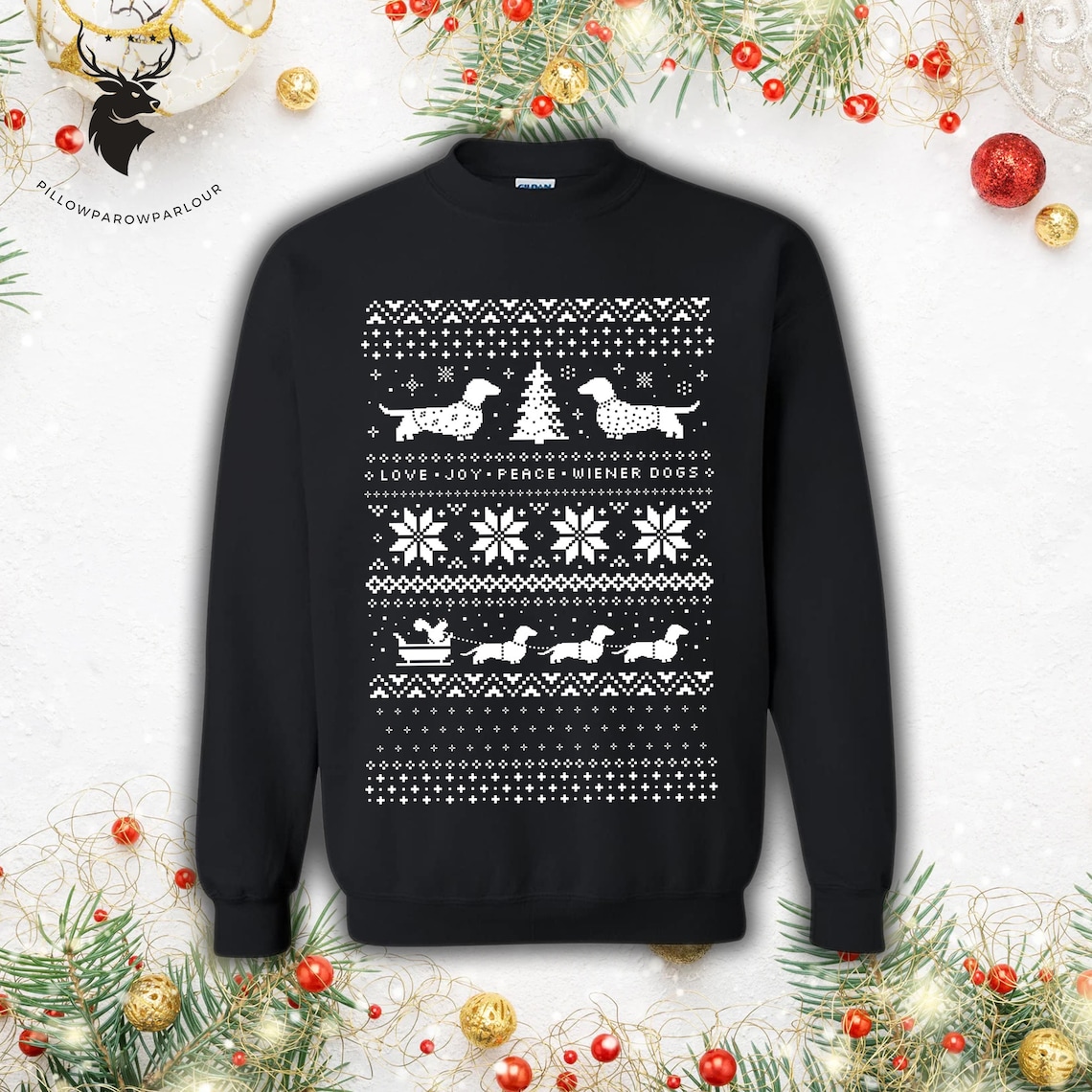 Christmas KraftieKreation Dachshund Sweater
The Dachshund Through The Snow sweater has a classic design and comes in multiple colors. It's also super soft and cuddly as it's made expertly with quality wool.
Sweatshirts and Other Dachshund Apparel For Humans
And, if sweaters aren't your thing, here's some other cool apparel too.
Women's RusticGlitterCo Dachshund Sweatshirt
A great gift for any Dachshund mom, this sweatshirt is warm and soft, and an excellent gift for the holidays. It also comes in over a dozen different colors if green doesn't feel right for you.
Geordielastcrochet Sassy Dachshund Hoodie
This black and unisex "Short and Sassy" dachshund hoodie has a cool design and is made to be as comfy and warm as possible. The hood is stringed too and is deep enough for longer hairstyles.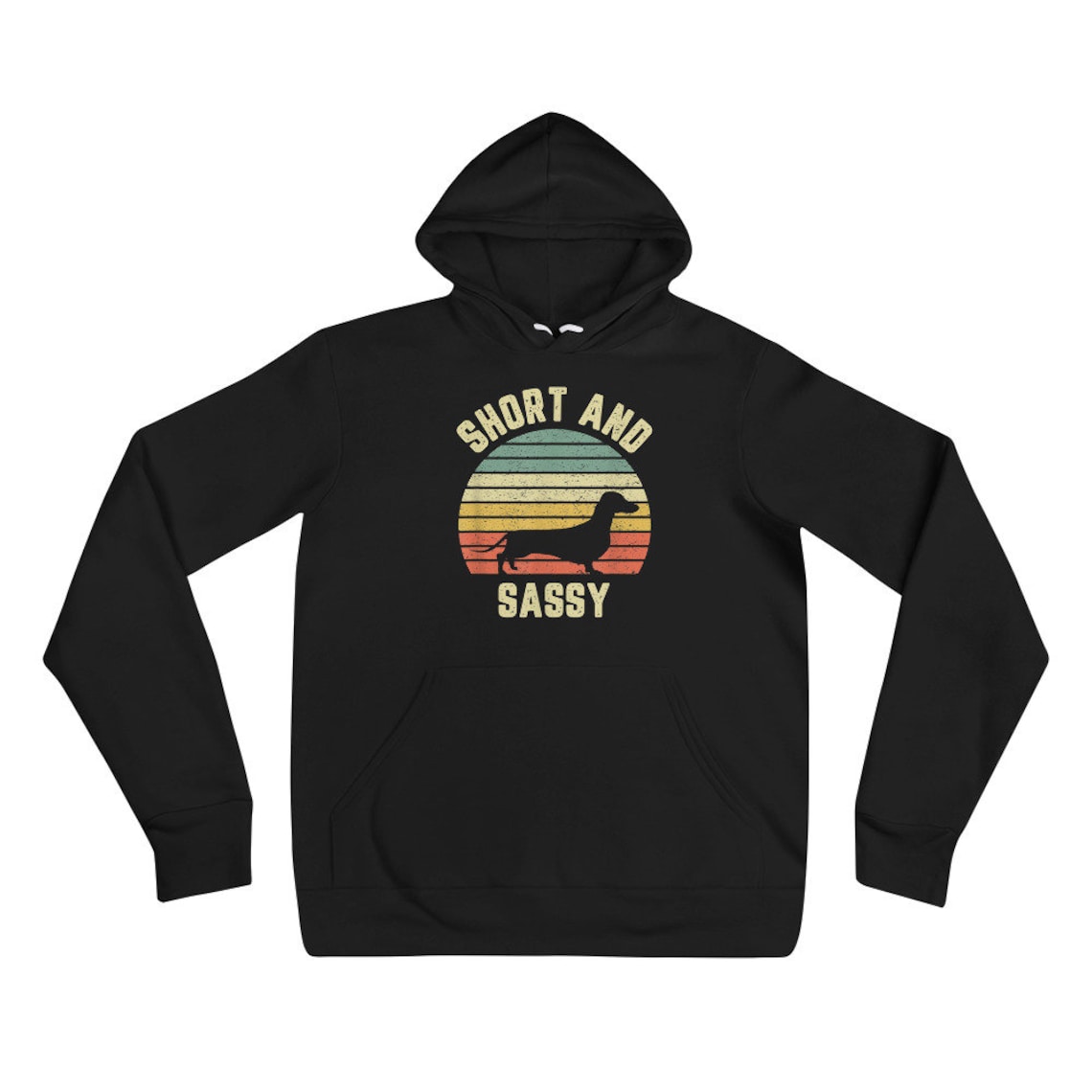 A bulkier hoodie design with a lovely Doxie on the front, this one is made out of 80% cotton and 20% polyester. It comes in several different colors too.
Heymiss Dog Mom Long Sleeve Shirt
The Heymiss sweater is an excellent gift for any mom, sister, or girlfriend. With a simple but cool design and a comfy feel, this sweatshirt also comes in over half a dozen colors.
ATACT Women's Pawprint Sweatshirt
Pawprints are always cute and the ATACT series offers numerous great pawprint and heart designs for dog lovers. Both long and short-sleeved, these pullover shirts are incredibly well-made.
This great graphic pawprint hoodie sweater is made out of a high-quality cotton blend. It's breathable and skin-friendly, which is excellent for people with irritable skin.
Bdaz Weenie Dog Houndstooth Sweatshirt
The houndstooth black and white pattern on this sweatshirt is as straightforward as it is eye-catching. More importantly, the sweatshirt itself is machine-washable and quite soft and warm.
Dachshund Sweater For Humans To Wrap Around Their Sausage Dogs
Now that we looked at some cool dachshund sweaters for humans options, let's check some doggie wear too. Dachshund sweaters and coats are different from most other small dogs' clothes as they need to be longer. This can make finding the perfect sweater or coat for your Doxie a bit challenging too. So, we thought we'd look for some suitable suggestions here as well:
This long and hooded sweater fits medium-sized Doxies perfectly. Soft and warm, it also covers the head and the upper legs to further keep your dachshund warm.
This handmade custom sweater is an excellent feed for most standard Dachshunds, as well as Boston Terriers and Maltese dogs. It comes in several colors too.
This tiny, pink sweater is 100% acrylic and is a perfect fit for most miniature dachshunds. It's machine-washable with cold water too and is made to reach as far back as the base of the tail.
Another great option for mini Doxies, this sweater also comes in several colors. Incredibly soft and with a reinforced neck area, it also sports a few pompons to bounce around as your sausage runs around your home.
Extra-long and warm, this knitted sweater is excellent for Doxies. It doesn't cover the feet but it comes in several different sizes as well as color patterns.
The FitWarm turtleneck isn't even a sweater – it's knitted pajamas! You should measure your dog well to make sure it fits but if it does, it will keep your Doxie very warm and safe.
Long, cuddly, and warm, this sweater is made out of high-quality yarn wool and acrylic. It's also available in multiple sizes and colors so pick wisely.
Cute, long, hooded, and sleeved, this supersoft sweater is perfected for any dachshund. It's also available in three different colors and three sizes so you can choose the right fit for your dog.
Extra-long and with sleeves for the front legs, this knitted sweater has a great design. It comes in multiple colors and is guaranteed to keep your Doxie warm.
For something a bit different, here's a cool Doxie coat by Morezi. It's padded with fleece, it's a secure and firm fit, and has a high collar. It's also extra-long to keep your whole sausage dog safe and warm.
Why Do Doxies Need Sweaters?
Coming from Germany, dachshunds are, technically, a northern or a moderate-climate breed. As such, they are not as vulnerable to cold weather as Chihuahuas, for example. However, they aren't exactly Huskies either.
They are small, don't have too much body fat, and their short legs keep their bodies very low to the ground. Especially shorthaired Doxies can get cold quite easily in the dead of winter. So, having a pair of nice dachshund sweaters and/or coats is strongly recommended. Especially if you live in a state or country that tends to get chilly in the winter.
Read more about: Over 150 Funny Wiener Dog Names
Jordan is an animal–lover who specializes in dachshunds. He has owned and cared for dachshunds since he was a child, and his passion for these unique dogs has only grown with time. Jordan is an avid researcher and learner, and spends a large portion of his free time studying the history, behaviour, and health of dachshunds. He has a knack for training and socializing his own dogs, and loves introducing them to new experiences. When not caring for his own pets, Jordan likes to volunteer at local animal rescue shelters, helping to find homes for abandoned dachshunds. He is a true animal advocate, and dedicates his time to ensure that all animals receive the love, respect, and care they deserve.