Last Updated on February 14, 2022 by Griselda M.
Sweaters for miniature dachshunds are necessary for colder climates considering this small breed needs some insulation from harsher cold weather. The first step in picking a dachshund sweater is to consider what is the average size of a miniature dachshund.
Certain dachshund sweaters for dogs have very practical designs, while others lean into a more appealing aesthetic with practical features. Depending on the budget and the size of your doxie, many options are available to suit both effective and elegant needs. There is no questioning do dachshunds need sweaters, as cold will ultimately require some protection.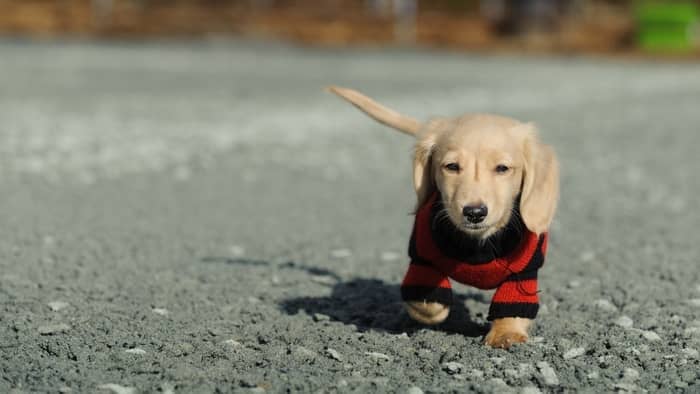 A good quality windproof and waterproof dog coat the Morezi Dachshund Coats offers perfect options of sweaters for miniature dachshunds. The shape is specifically designed to fit a dachshund body with appropriate length.
An adjustable strap goes around the coat to provide a snug fit easily to fasten on your doxie. Made with sturdy outer fabric to assure resilience, and rimmed with reflective trim for visibility during evening walks.
The foldable neck has a fleece lining for extra warmth and snugness. The back has an opening for a leash to connect to the harness. This coat is machine washable and may need a colder washing cycle, but otherwise can be treated as a regular coat. 
The BONAWEN Fleece Dog Coat provides perfect small size sweaters for miniature dachshunds. Polyester fleece fabric is double layered providing a thin coat that offers flexibility and warmth, especially in colder months. Available in either red, blue, grey, yellow, or green, its elongated shape makes it an excellent dachshund sweater.
Reflective edges line the collar for extra visibility and safety at night. Its design features velcro straps at the neck and belly to adjust accordingly for comfort. The straps also make it very easy to put on and take off. When it gets dirty the coat is easy to wash in a washing machine and let out to air dry.
An ideal coat for cold winter periods, the Vecomfy Fleece Collar Dog Coats for Small Dogs brings comfort and warmth. Made with high-quality waterproof fabric on the outer layer, which comes in 3 different colors, red, black, and grey.
A waterproof zipper on the back provides access to connect a leash while avoiding hurting your dog. The sizing variations easily work as a dachshund sweater as it can fit with their long bodies. Perfect sweaters for miniature dachshunds accommodate their size but also provide a comfy fit with velcro straps for easy wear.
Its inner layer has a soft fleece lining extending towards the collar offering warmth. With windproof feature makes them the dachshund sweaters for dogs especially for harsher weather conditions. It's entirely machine washable for easy cleaning and maintenance.
A dog jacket with many features, the PETCEE Dog Jackets brings practicality to a new level. With a high collar design to protect the head and neck area, this jacket provides waterproof and windproof protection. Made with polyester material available in red, black, and orange to suit the aesthetic needs of sweaters for miniature dachshunds.
With an access hole on the back, it can be used with a leash and harness underneath. Reflective strips line the outer layer for visibility in low light, and soft cotton on the inside for insulation. A rubber band at the tail holds the jacket in place on windy days. Measuring your dog from the base of the neck to the tail would be necessary to assure a close fit.
A perfect quilted thermal dachshund sweater the Geyecete Dog Winter Coat is here to provide protection. This jacket is a comfy breathable fit, with water and wind protection to boot to keep your dog dry. The special design makes it perfect for dachshunds as it fits nicely on their bodies.
Equipped with a hole for leash access, and an inner soft flannel layer, the jacket also has a cute pawprint logo. A velcro strap around the body and a zipper at the neck makes for easy adjustability.
A perfect outdoor or even indoor jacket it can brace the cold months easily, especially due to its sturdy material. It comes in multiple colors such as navy, red, and pink, to suit many choice aesthetics.
A novelty design the Handmade Dog Poncho adds a splash of color to dachshund sweater wear. Unique and stylish, this poncho is hand-made with polyester material in a serape blanket fashion.
Adjustable straps at the neck and belly with velcro strips make it easy to put on and take off. It can even be worn outside on walks as it has a hole for leash and harness connection. Simple and cute sweaters for miniature dachshunds can be washed in the machine on a colder cycle to maintain colors.
Conclusion – Sweaters For Miniature Dachshunds
Choosing the perfect dachshund sweater would potentially require measuring your dog, to ensure a snug fit. The need to efficiently put on or take off a jacket would require considering different enclosures for this apparel. Fortunately, many different designs and looks are feasible and convenient to suit any needs and protect your dog during walks.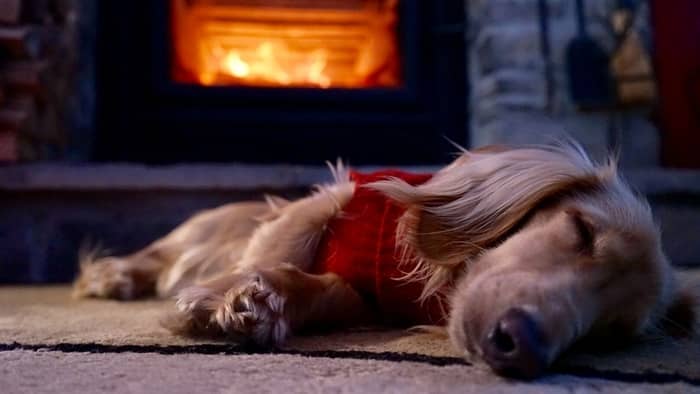 FAQs
What is the average size of a miniature dachshund?
The dachshund is a small breed regardless, but its two size variations make for two different averages for each type. The standard version is the large one and the miniature dachshund is, as the name implies, the smaller version. Typically, an average size for a miniature dachshund is a little over 13 inches or 35 centimeters. This average varies depending on the parents' size and can fluctuate, so measuring your dog before getting a jacket is advised.
Do dachshunds need sweaters?
Depending on the climate zone, cold weather will not go well with a dachshund and their walking routine. Thus doxies may need a sweater or jacket for protection against such rough weather conditions. Being so close to the ground with their small feet, doxies will get wet and cold, especially in autumn or winter months. A jacket will make walking that much easier and more enjoyable for them while also making cleaning a simpler endeavor.
Alexandra is a passionate dog lover who loves nothing more than spending time with her beloved dachshund. She is an avid outdoorswoman who enjoys taking her dog on long walks in the park, playing fetch, and snuggling on the couch. When she's not caring for her pup, she enjoys reading and exploring new places with her friends. She is a strong advocate for animal welfare and loves giving back to her local community. Alexandra is also a dedicated and ambitious professional, working hard to make a difference in her field. She is kind, compassionate, and incredibly devoted to her family and friends.