Last Updated on January 17, 2022 by Fabiola L.
Seeing your Doxie suffering from back problems is both an unfortunate and a common problem for a lot of dachshund owners. However, what can you do about your dog's back pain? Have you considered getting a dachshund back brace – why do you need it and what to get? Let's go over the main features of dachshund back support braces below as well as some suggestions on what you should get.
What Is A Dachshund Back Brace?
A dachshund back brace is exactly what it sounds like. It's a harness-like support brace that covers your dachshund's back and torso. The purpose is to help keep your dachshund from wiggling and hurting its back as well as to help support correct and healthy posture. A good brace will also be comfortable and breathable, as well as durable, lightweight, and easy to put on and off.
What Are The Features Of A Good Dachshund Back Brace
The right product should cover the necessities we mentioned above as well as have a few other bonus features. All in all, you're  looking for a brace that offers:
Excellent back support
Soft and comfortable fabric and design
A breathable fabric
A sturdy design
Durability and longevity
Ease of use
Adjustable size
Hoops for a leash
Machine washable
Light reflection
Cool overall look and design
A few of those are obviously optional; however, most are must-haves. A back support brace must first and foremost prevent injury and help your Doxie's back heal.
When Would You Need To Get A Dog Back Brace?
The most common dachshund back problem that necessitates back braces is Intervertebral Disc Disease (IVDD). We've written about IVDD, pain relief, back surgeries, and more, but back support braces are often the extra tool that's needed on the road to recovery.
They can either be worn temporarily while your dog is recovering or in the long run for older or more severely injured dogs. Either way, many dog owners are hesitant or heartbroken at the idea of getting a back brace for their dogs – it feels like too much of a handicap and a clear symbol of the dog's disability.
However, back braces really aren't that much of a hassle for the dog to wear. Both comfortable and effective for prevention and recovery, back braces should be used whenever your vet recommends.
Should You Get A Wiener Dog Back Brace As A Prevention Measure?
There usually isn't much point in putting a healthy dachshund in a back brace. If a dog has a hereditary predisposition to IVDD and it's getting old, and/or has started exhibiting some initial symptoms of back pain, a veterinarian may recommend a light back brace. Most of the time, however, your vet will just recommend other methods for back care such as:
Don't overexercise your dog
Weight maintenance
Keep your dog from high jumps
Carry your dog up and downstairs
Switch from a leash to a harness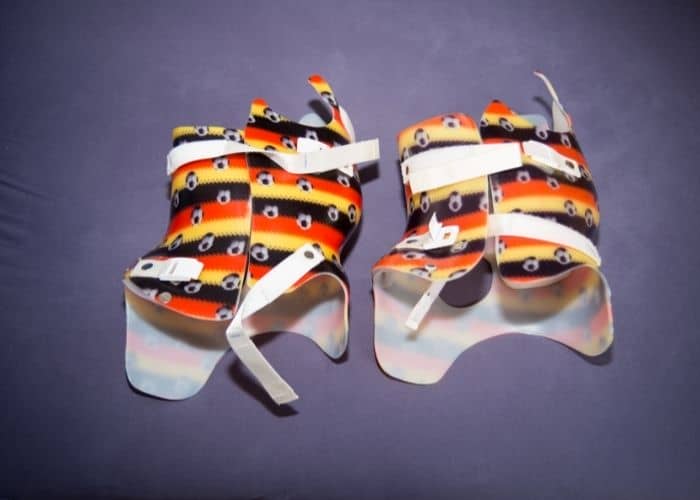 What Are Some Of The Best Small Dog Back Brace Models You Should Consider?
If you're just now starting to look for a dachshund back brace, you may feel a bit overwhelmed by all the different models, designs, and choices. Following the user reviews is usually a good enough route to take, but you must also know what's best for your dachshund. As far as quality is concerned, here are the three best back braces we've found on the market as of now:
Excellent for surgical recovery and rehabilitation, this brace is ideal for IVDD and general back pain relief. It comes in five different sizes, it's easily adjustable, and it's designed very neatly with a chest, ribs, belly, and hind side straps.
L'il Back Bracer is a mainstay brand in this niche and for good reasons. Their main back bracer model is ideal for anything from arthritis to IVDD, and it has a very high-quality design. Under the same brand, you can also find slings, wheel harnesses, and many other back support products.
Another great option for IVDD or arthritis, the VertebraVe brace is both sturdy and gentle. Excellent for post-op support, it helps with pain relief and general injury prevention.
Something Else You Can Use – Dog Sling Harnesses
Another type of tool you'll see often is dog sling harnesses. Intended for much the same back problems as back braces, sling harnesses are made for walks with an injured dachshund. Like a brace, they keep the dog's posture in check but they also allow you to help the dog move around with ease and go on walks. Here are our three preferred models:
Simple and lightweight but also sturdy and effective – great for the back as well as hip or knee injuries. The extra padding on the straps makes this sling much more comfortable than it might look.
This full-body harness is great for dachshunds and corgis with back problems, arthritis, joint problems, or other disabilities.
A great combination of a back brace and a sling harness, this NeoAlly model can be used for almost anything. Durable, comfy, and easy to put on, it's great for pet mobility.
In Conclusion, Getting A Dachshund Back Brace Isn't As Depressing As It Sounds
Getting a back brace or a sling harness may feel daunting, but it really is one of the best things you can do for a Doxie with an injured back. It also isn't that much of a hassle for the dog to wear.
Good back braces are easy to put on and comfortable to wear. They restrict just the right back movements you want your dog to avoid but allow for an otherwise free movement. In other words, you can rest assured that your dog won't just be healthy with a good back brace but will be more than free enough to enjoy life well into his or her golden years.
Jordan is an animal–lover who specializes in dachshunds. He has owned and cared for dachshunds since he was a child, and his passion for these unique dogs has only grown with time. Jordan is an avid researcher and learner, and spends a large portion of his free time studying the history, behaviour, and health of dachshunds. He has a knack for training and socializing his own dogs, and loves introducing them to new experiences. When not caring for his own pets, Jordan likes to volunteer at local animal rescue shelters, helping to find homes for abandoned dachshunds. He is a true animal advocate, and dedicates his time to ensure that all animals receive the love, respect, and care they deserve.